Knowledge base


Contact
Porceline by M A X I M products available only through resellers.
XPRESSION - ORGANIC TRANSFER PRINT

A completely new quality of imprints on advertising ceramics.

Organic transfer print technology (Xpression) enables to achieve high quality, vivid imprints in any Pantone color. From now on even colors such as pink, green, magenta and purple are achievable.
Endless possibilities
Xpression technology is very versatile. It can be mixed with every other imprint technology. Organic transfer print is suitable for surfaces coated with Hydrocolor. Of course all of our inks are certificated and are safe to come in contact with food.
Termo Ink
Termo Ink technology is a unique variant of Organic Transfer Print. Due to a layer of special paint, some part of an overprint may become invisible until hot drink is poured to the mug. Such a solution enables to create extremely original promotional mugs.
Xpression – imprints in any Pantone color
Technology benefits
Technology limitations
Technology process phases

Imprint retains its properties and colors for at least 300 wash cycles in dishwashers (only for ceramic and porcelain products)
Pantone color reproduction,
suitable for surfaces coated with Hydrocolor,
orders starting from 24 pieces,
low cost.

limited resistance to mechanical damage.
visible, transparent outline around imprint.

preparation for printing,
printing process on paper,
transfer on product,
firing product (200 °C).



Examples of organic transfer print: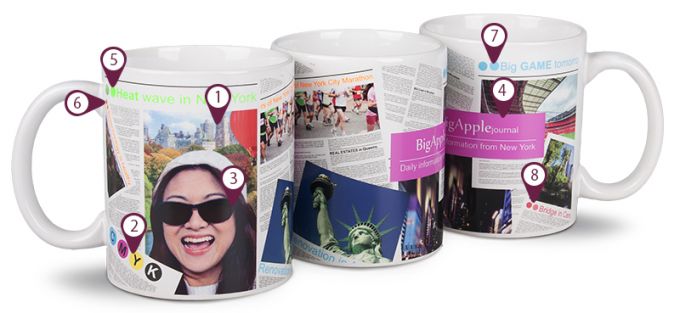 CMYK print
Colors used in CMYK print
Termo Ink print – printappears when heated, after pouring hot liquid into the mug.

Intense colors
Xpression print



Comparison of colors achieved with CMYK (a) and Pantone (b) prints: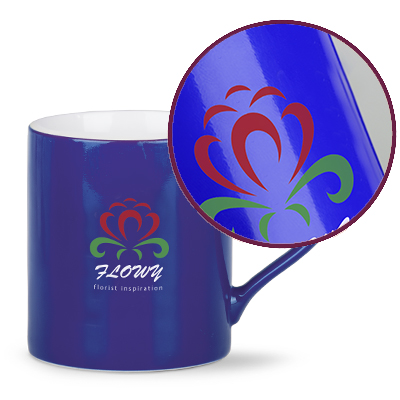 Xpression and HYDROCOLOR
Example prints: